When it comes to telling you about my new Toyota RAV4, it feels like a bit of a confessional this article, stating to you all that it's been some time since my last car purchase. Not that I've really been allowed to buy anything. The wife threatening all sorts of bodily injury to me if I brought – and I quote – "another shit car" to the house. That stopped me getting a rather battered, ropey, Citroen CX. Which I'm still fairly pissed off that I didn't get, but I'll get another chance one day.
Fight, for the right, to have a Toyota RAV4
The wife, bless her, doesn't understand how similar cars are to handbags and shoes. Yes that does seem a fairly sexist thing of me to say, but I would consider anyone who has 4 large boxes of shoes and handbags to actually like them. Me? I own a pair of cowboy boots, a pair of trainers and a pair of slippers. I'm not a fashionista.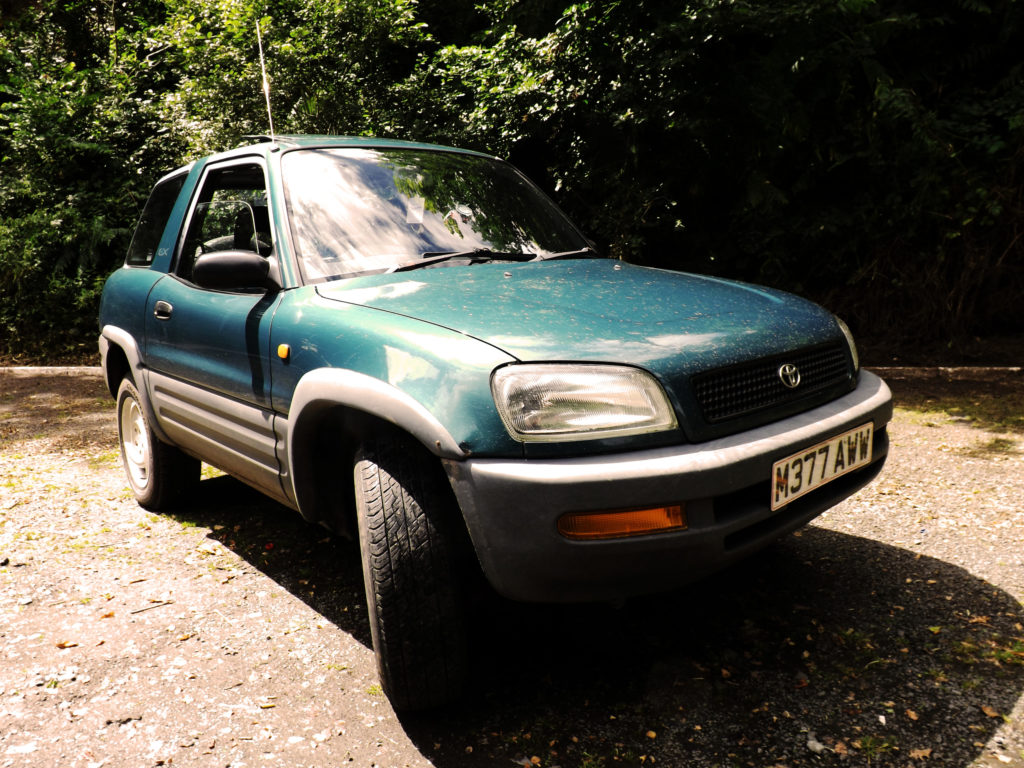 So when an advert for a Toyota RAV4 turned up on the beige forum, with the bitterness of the Citroen CX in my mind and having to pull down yet another box of shoes for the wife, I thought sod it. I need a cheeky little 4×4 in my life, and another Toyota never hurt anyone. Told the wife I've made the deal, she was obviously very pissed off and angry. She was like that with the CX so I just needed to push through this bit and show her the benefits of what a RAV4 would mean to her.
A Video Introduction to Jack, my RAV4
t'Yorkshire for t'RAV4
That wasn't my biggest issue in getting the vehicle though. It was the actual physical action of getting the car which proved troublesome! I'm based in Stourbridge, and the Toyota RAV4 was based in North Yorkshire. About 3 hours drive away. A very kind friend agreed to drive me up there for petrol, a bottle of Rhubarb Gin, ginger ale, and a feed. The alternative was ask my sister for a lift but sisters being sisters, instead of saying yes she just started talking shite about past favours I didn't return yadda yadda.
I didn't really tell my mate where we were going other than the postcode for the sat nav. I don't know why I didn't, I thought it was a laugh really! He enjoyed the drive, as we didn't end up in some doss hole with a crack problem. We ended up in a lovely part of the country, so much so the tarmac road we were on turned to gravel. We were too busy looking at the countryside to notice!
We weren't far wrong, and while my mate kept the seller's Dad company I went in to a field, surrounded by lambs licking my leg, taking the rear lock of his spares Toyota RAV4. The story is the seller's old man had slates in the back of my RAV4, one fell back and smashed the back window. It was easier to swap the doors around, and as it's North Yorkshire no one ever locks anything. So the lock was never changed!
Getting used to driving a 4×4 again
After a cup of tea, and stories the seller's Dad was telling us – which I've told him he needs to promote more! – we set off back to Stourbridge. We get to the first corner and I'm already reminded that I'm not driving my Corolla, or a car that weighs just 900kg. I push the brakes and I realise it's not stopping like I thought it should. A firmer press on the brake stops me from thumping my mate up the backside.
It's been a number of years since I drove a 4×4, and you forget how different they are until you get back in to one. Obviously newer 4×4's drive pretty much like cars, and the Toyota RAV4 does tend to drive like a car as well. But not as much as a new 4×4.
The way you sit in it is very reminiscent of other Toyota's of the period, and because of that I felt I could throw it round corners like I would do with my Toyota Corolla. I couldn't, because the RAV4 would roll around it, and you would wonder whether you had the grip to keep it going. The sense of speed isn't there either, due to how high you sit in the car. The biggest thing I noticed and had to adjust was throttle response and how the rear diff would kick you in the back. You're no longer driving a front wheeled drive vehicle, you're in a 4×4. And it's a great feeling to have when driving.
Party like it's 1999
I'm an odd ball when it comes to many things, which I think is pretty damn obvious if you've been to this site before! Ever since my first car, the first meaningful drive I make in it will always have a particular sound track. I've got a copy of "Forever Delayed", which is the greatest hits of the Manic Street Preachers on CD. That gets played in it's entirety on the first journey.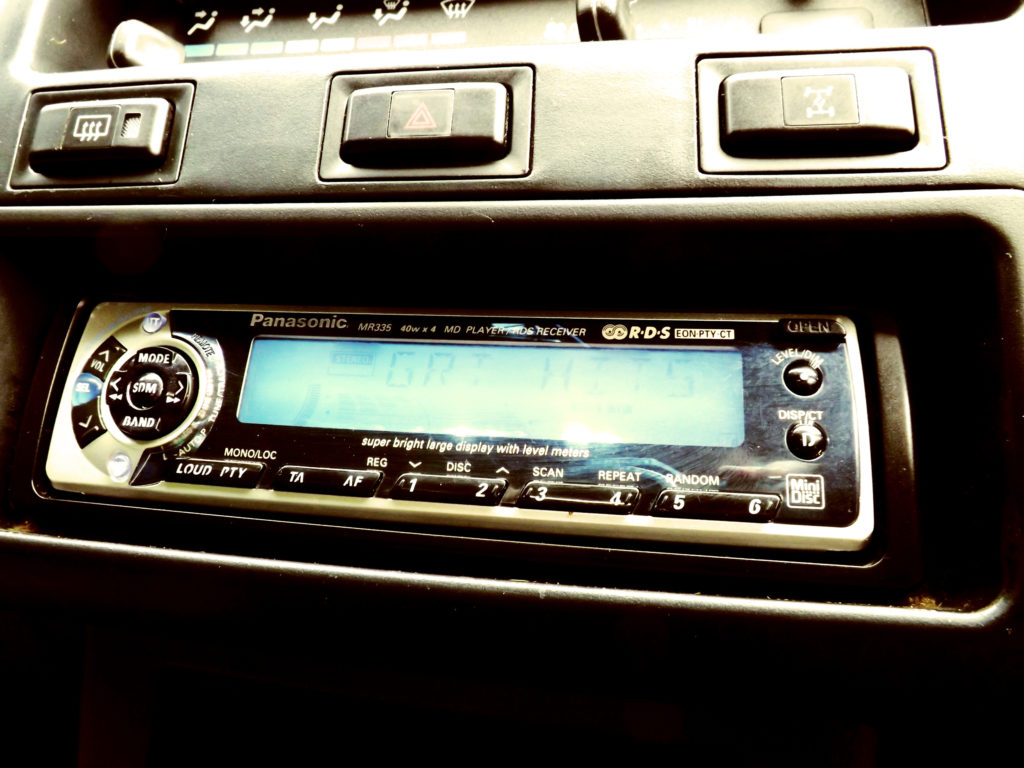 Except, this time, that didn't happen. I had left the CD behind me, but I thought it'll be alright, I'll just stream it through Spotify. Imagine my surprise when I sit in the car and discover a Panasonic MiniDisc player with no aux connection! I didn't know they even existed in cars, let alone one built (or at least branded) by Panasonic. It meant I was stuck listening to something on MW, as FM in the UK is woefully bad in terms of variety.
When I finally got back to the house, it was getting dark but I couldn't help but admire the RAV4. It's a tall beast, comfortable inside with a nice airy cabin, and for a 25 year old car there is hardly any trim rattle. It feels tight like a drum the day it rolled off the ship from Japan. That's a testament to the Toyota's of this era, they were always well built. Although by the time my Corolla was built, Toyota had discovered a better way of rust proofing their cars. Something which has already attacked this RAV4, with the rear arches around the suspension already having a tickle of the angry pixies.
What's the plan for this Toyota RAV4?
There is no real plan for this RAV4 other than use it! Because of insurance, and Nikita my Lada project, the Corolla is currently laid up off the road. It was up for sale, briefly, but then taken down as I forgot the Rover 25/MG ZR I have on the driveway is just a spares car. So once I sort out some storage, the Rover will be stripped and scrapped. Meaning the Corolla can come back and be part of the gang once again.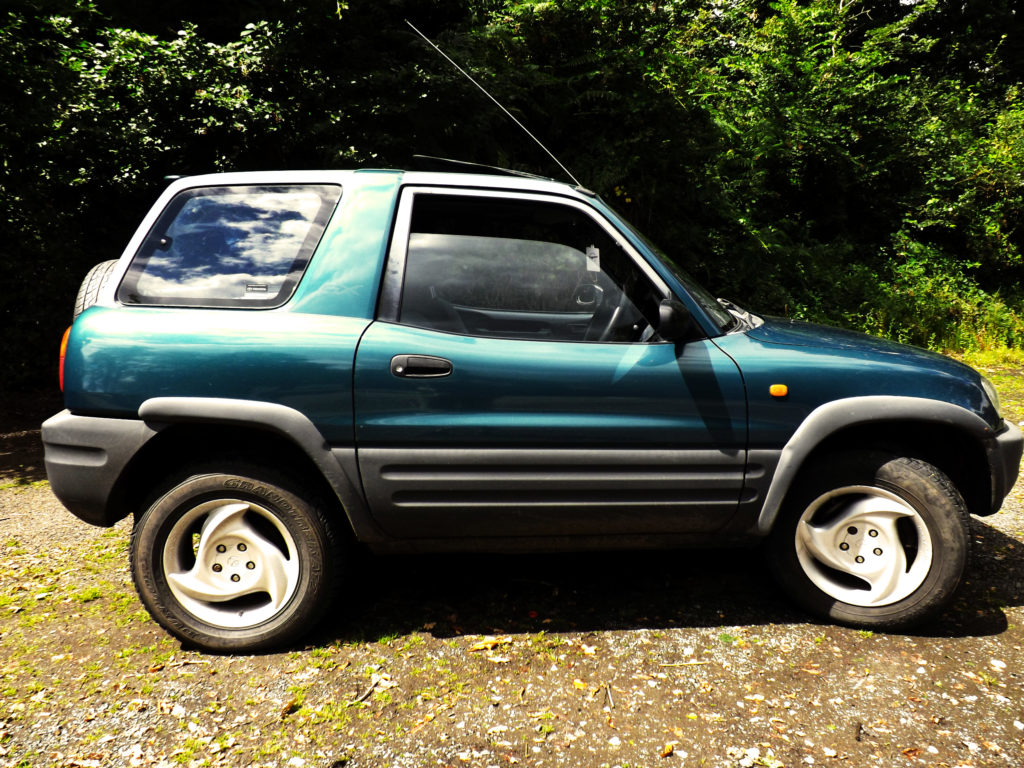 Back to the Toyota RAV4, the plan is to keep on top of the maintenance as these do rust underneath, and rust has killed many a RAV4. Tyres are also an issue on this 4×4, as they're old and need replacing. It also failed an MOT, although given it's had a Covid19 extension, the issues still need to be resolved. The RAV4 failed it on emissions and a broken brake light bulb. Well the light bulb has been solved, the emissions will work itself out over time with the car getting longer use, allowing it to burn off the crap and crud that can affect an engine like that.
There are some little body work issues to look at. The removable sunroofs have a little bit of corrosion on them, but that's about as bad as it gets! I have already attempted to tint the rear windows, which didn't end well. So they will have to be done by a professional at some point. And, of course, I needed to add a lovely cheap no-name chinese cone filter to the engine. There's a reason for this, something I'll go in to at a later date.
So that's it really. I'm the proud owner of a beautiful green Toyota RAV4. As I write this I'll have had the car for a month and every time I drive it the more I like it. The seats are surprisingly comfortable, even on the long drive back from Yorkshire to collect it. I plan to go to Budapest next year, and I plan on doing that trip with Jack. You never know what lovely thing I might bring back with it!
Yes. I may even bring back some Unicum…