A broken or cracked catalytic converter can cause problems to a car and it's owner. More often than not the cost of a new catalytic converter could write off the vehicle. The Peugeot 107 – as well as Peugeot 108, Citroen C1, and Toyota Aygo – are not alone in this, but crucially a broken catalytic converter can be easily fixed with nothing more than a simple weld to the device.
I've owned my Peugeot 107 for 13 years this year and have driven it since it had just 15 miles on the clock. It's now done over 95,000 miles and in that time I've experienced most of it's common problems at one point or another. The worst problem I've had with it, in terms of cost, is the broken catalytic converter. Given I had a long journey in front of me, driving from my home in the West Midlands to Dusseldorf, I was keen to make sure that this current problem would be fixed once and for all.
Video – Repairing the catalytic converter on my Peugeot 107
It's been a year since I was preparing my Peugeot 107 for a trip to Dusseldorf, but it's only now that I've managed to get this video together. Leading on from the success of fixing the rear brakes in ready for it's MOT, the time soon came to fix a rather problematic issue – repairing the leaking catalytic converter for good.
Can't I just replace it?
A broken catalytic converter on a Peugeot 107 is a common problem. In my experience, the catalytic converter will break at about 60,000 miles – which it did for me. For many people in this situation they will look to get the catalytic converter replaced. A 3rd party part from Euro Car Parts (as an example) cost me £140 in 2013 when it happened to me. Today (at the time of writing), prices range from £300 up to £700 – and these are still just 3rd party examples. Given too that this doesn't include labour the price of replacing a catalytic converter could become economically unviable for the owner.
Why does the Catalytic Converter break on a Peugeot 107, Peugeot 108, Citroen C1 and Toyota Aygo?
The way the cat breaks is quite simple, and I think it's a simple fix. On the Peugeot 107 (as well as the Peugeot 108, Citroen C1 and Toyota Aygo) is of a "manicat" design. This means it is welded on to the manifold and is fitted as one piece. The failure point of the cat in this instance is at the welding point between the catalytic converter and the manifold itself. A crack (or cracks) develop from the heat and vibrations, and over time the crack widens leading to the detachment of the two items.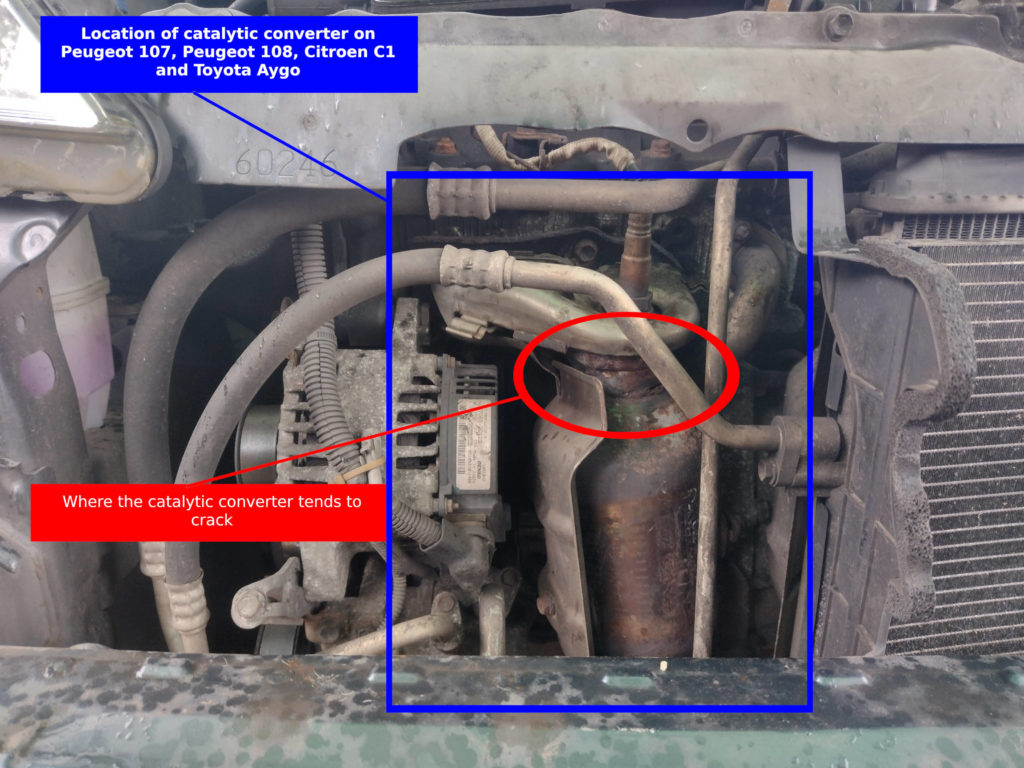 In my case, what made this worse was that a bracket that attaches to the middle of the catalytic converter to the engine block wasn't fitted to my car when it left the factory in 2010. You'd never have known until it was time to change the catalytic converter and remove the front bumper.
The remedy, to my mind, is rather simple. Get the catalytic converter from your Peugeot 107, put it on the bench – and weld.
Now my welding isn't great, I'll win no beauty awards for it or anything else for that matter. But what it is, it's strong. Strong enough to withstand the demands of a little 1 litre 3 pot engine screaming along the autobahns of Germany, and in the year since I've done the welding the car has been perfect. It doesn't sound like a pebbles inside a tin in a washing machine, there are no nasty fumes coming in to the car trying to kill me. No – I have saved the car for just a little bit of welding wire and an afternoon.
It pays to weld, regardless of ability. Because we will always get better with practice!