2020 has started the same as every other year. Social media is swamped with "New Year, New Me" bullshit. Gyms are full of people who have signed up to 12 month contracts who will give up in February. And we're looking at the possibility of another war.
I've decided not to let that sort of negativity and bubblegum philosophy in to my life. I thought instead I'd spend a bit of time to reflect on 2019 and the fleet of cars I have. I'm lucky enough to have a few cars. I'm even luckier to have the tools and space (sort of) to work on them. It's a big year in some ways as some of the cars will be undergoing some work, and moving on. So I thought it would be a good way to start 2020 by writing it all down here so I could plan ahead.
Paddy – 1998 Toyota Corolla E11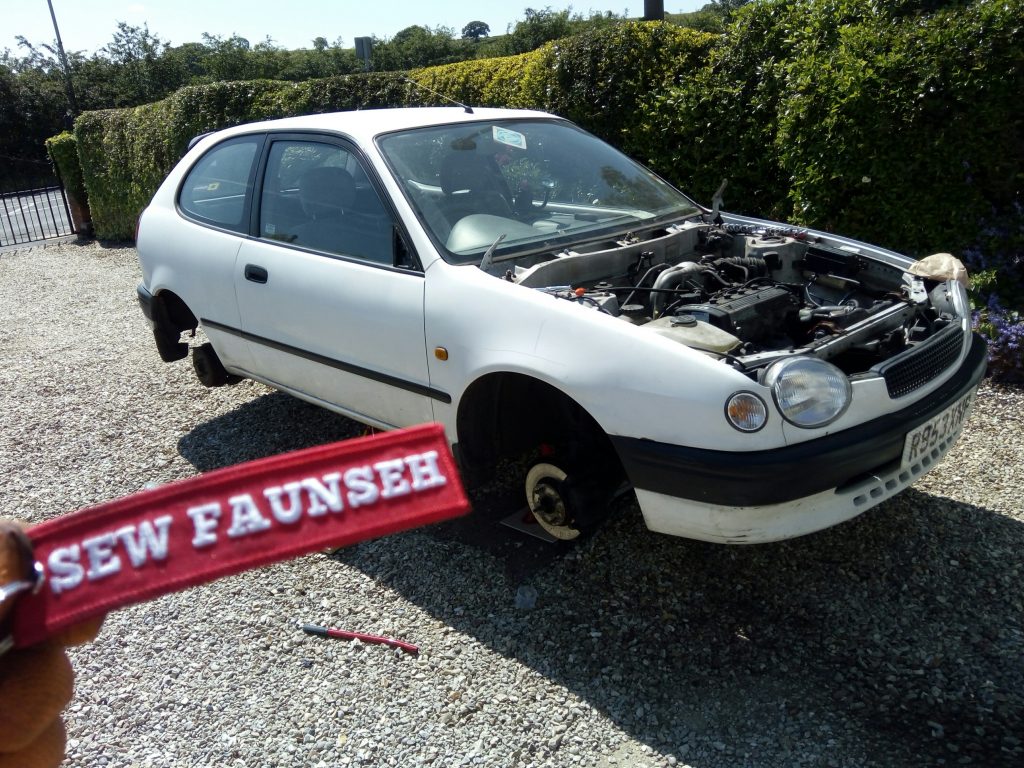 Since being laid up for 2 years and only getting back on the road in 2019, there isn't much in the way of plans for Paddy. At the time of writing the exhaust is practically falling off (again), as the temporary fix has permanently removed itself. So once the garage is clear the Toyota Corolla will go in and have the exhaust joins properly welded up. Sure I like the sound, but I don't like the fumes coming in when I'm stopped in traffic, or the fact I can hear it scrape on the tarmac when the road gets bumpy.
There does seem to be a bit of a knock coming from the passenger side front. Which is weird as it's had all new suspension parts. I think the tie rods, which weren't changed, need changing. So this will be done at the same time as the exhaust. As well as this, the cheap Chinese cone filter will be removed and be replaced by the original air ducting that I removed. A K&N panel filter may be put in there if I can afford it.
The bodywork hasn't been resolved due to the weather. I did the front of it, which looks great, but the sides still need a bit of filling and spraying. And on top of all that, the paint in general could do with some machine polishing.
Rocky – 2010 Peugeot 107
2020 is a big year for Rocky, my 2010 Peugeot 107. I'll have had it 10 years in September, and it's been a fantastic car for me. However I've neglected it a little bit by giving it to the wife to drive.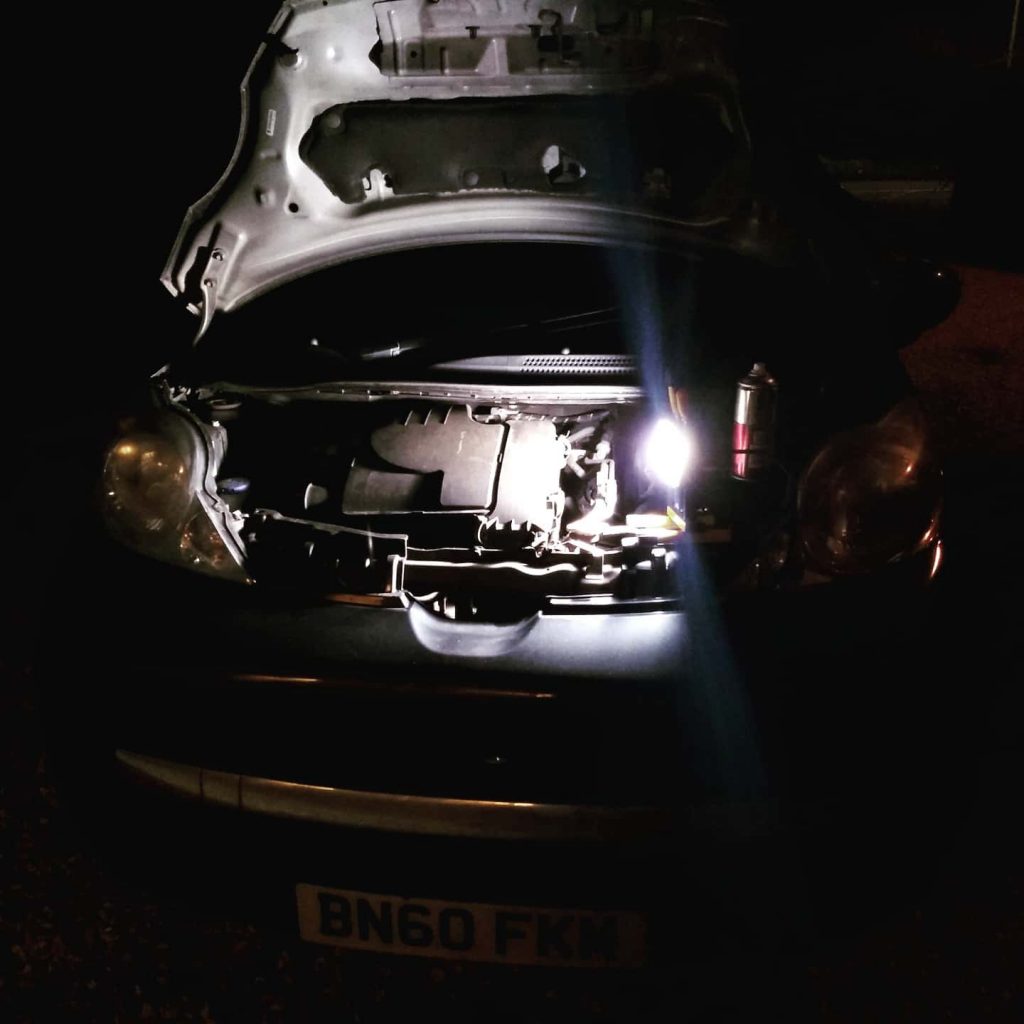 In December 2019 I had to put on the cheap Euro Car Parts special catalytic converter as the one it had broke off. I also ended up snapping a head bolt changing it, which was fun. I'm not sure what I'll do about that, but one thing is for certain that I will be welding up the old catalytic convertor and putting that back on the car. I will also have to change the front bumper brackets as they're made of the plastic they use to attach bottle caps to bottles.
An issue that has plagued the car for a while is the door seals and water ingress that affects Peugeot 107's, Citroen C1's and Toyota Aygo's. I've sorted out the rear lights, but the high level light will need to be changed as that is still letting water in. Further to this, the door seals need replacing as they're letting in water all the time now.
Once the Peugeot 107 is in the garage I will also underseal it, as they only come with a modicum of primer. And after 10 years I think it's time it was properly rustproofed. Especially as Rocky will become the sister-in-law's first car, so it needs to be in the best possible shape to provide the same level of trouble-free motoring it's given me for the last 10 years.
Conor McGregor – 2001 Rover 25/MG ZR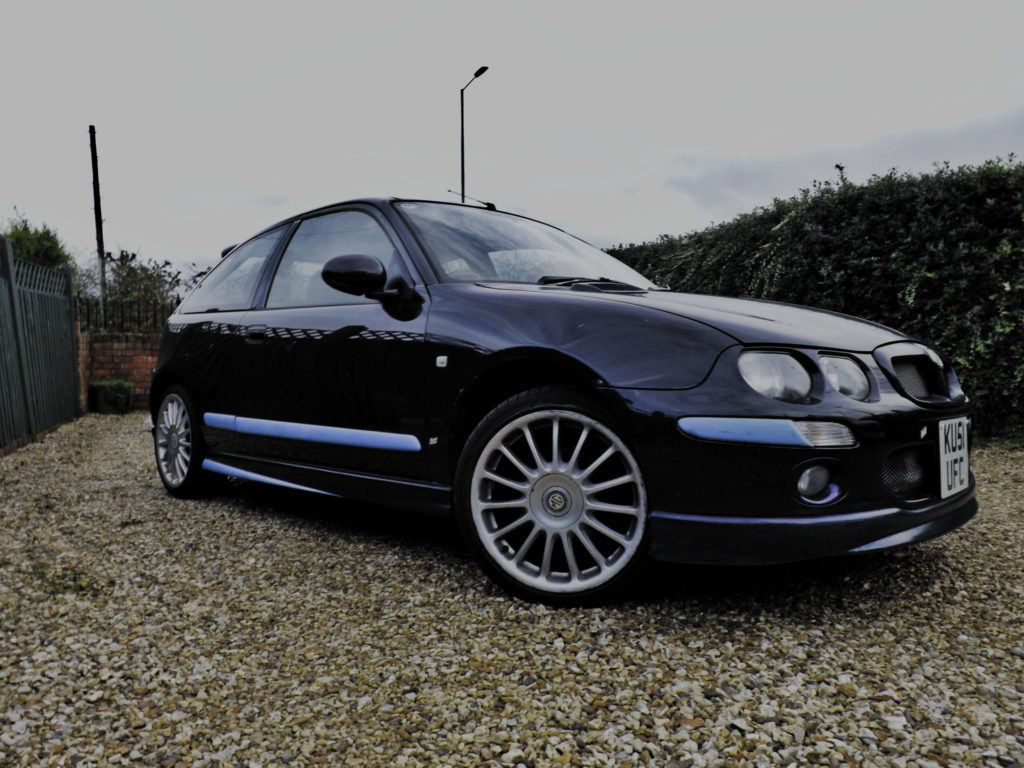 The latest edition to the fleet will almost certainly be the most short lived. Conor was bought for it's 1.6 K-Series engine an it's interior, as they will end up in the Lada. I'm not sure when it will be stripped, but if you're after some parts for a Rover 25 or MG ZR give me a shout, as other than the engine and seats I've no real need for the car.
Nikita – 1976 Lada 2101 Zhiguli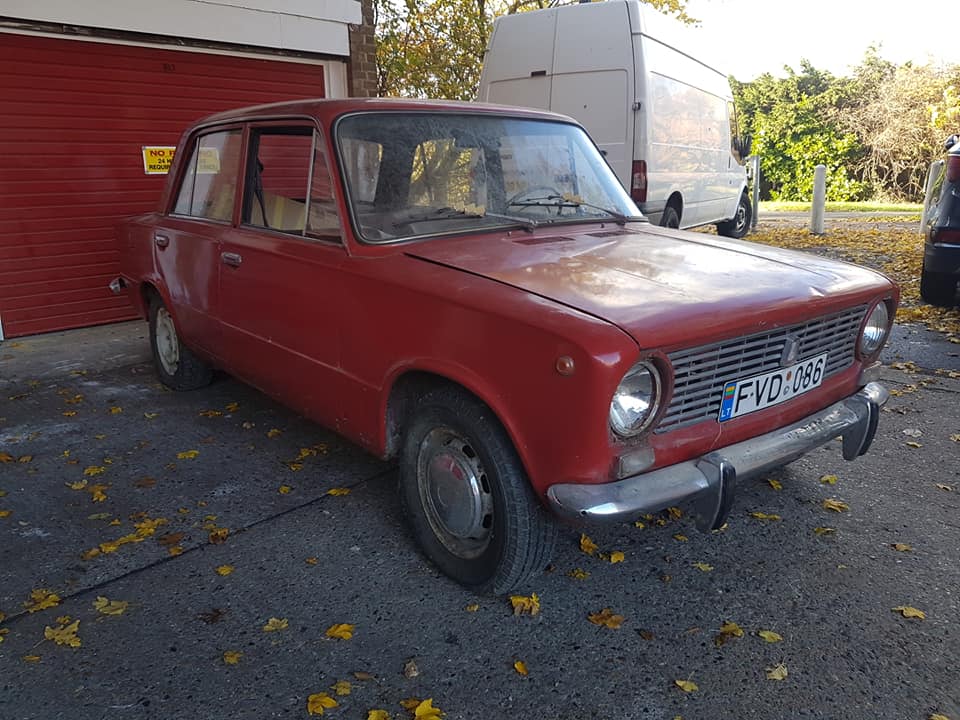 I can't begin to put in to words how excited I am to work on Nikita, my 1976 Lada 2101. It's coming home shortly, numerous parts have been bought for it, come with it, or are planned to go on it. The Lada has it's faults, mostly the Fred Flintstone performance pack it's got. But this Lada is going to be a great project. And one that I've never done before.
The plan is, if you haven't read above, is to transplant a Rover 1.6 K-Series engine in to it. This will boost it's power from 58bhp to something around 110bhp. But that isn't all! It's going to be my daily driver, so will go from being poverty spec to something a bit more luxurious. I hope to add heated seats to it, air conditioning, electric windows and at least one cup holder. It's going to be a long term project, but absolute fun none the less!
New additions?
At the moment, there won't be any new additions to the fleet this year. But that may change after the summer. Just don't let the wife know!
I hope that you enjoy the journey with these cars this year. Everything will be documented, either on here or on my YouTube channel which you should definitely subscribe to if you haven't done so already! You'll even see the noise Rocky was producing with a broken catalytic convertor – if you're in to such things.
Once again, thank you for the support you've shown me over the last few months with the site.