The Subaru Legacy I bought for a bottle of whiskey remains only one of two cars that I wish I never got rid of. I'm a bit of a magpie as someone once told me. Could've been the wife, could've been the mother in law, I don't know. It wasn't meant as a compliment I remember that much.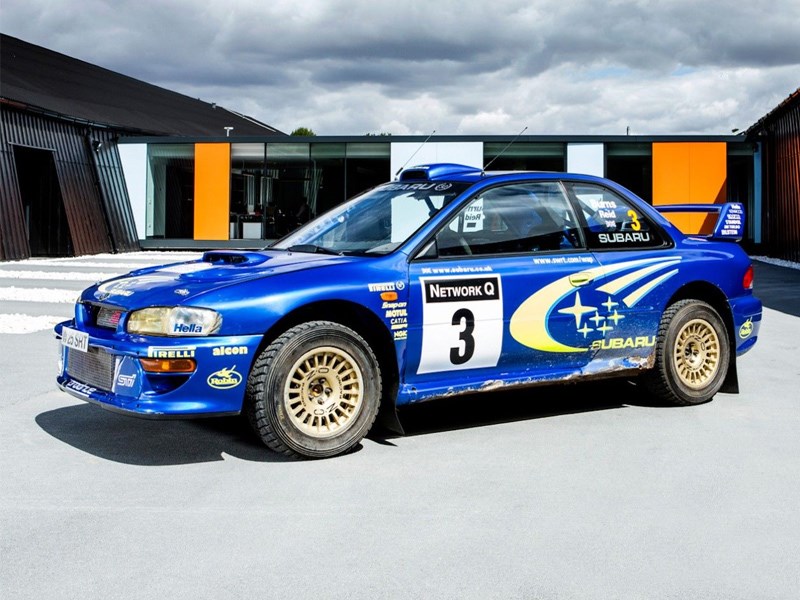 I grew up at a time when Colin McRae and Richard Burns were tearing it up in the WRC in Blue Subaru Impreza's. This was the age of the Max Power and Fast Car magazines, and The Fast and The Furious was just released. It was all about big loud cars going really fast. And as a young lad going to school it really was the only thing you could lust after without being told to "go away I don't fancy you".
Anyway, there is something primal about the blue and yellow gold of those 555 Prodrive Subaru's. They just stick in your mind, and have always stuck in my mind. The Toyota Corolla was doing it's best with Carlos Sainz and Didier Auriol, and that too had a properly sexy Castrol livery. But Subaru's were more common on the road going to school than the pimped out Corolla's were. The Subaru's seemed attainable yet completely out of reach. Something called "boy racer" and "insurance premiums" meant for years I couldn't own a Scooby.
The problems of a boy growing up
Fast forward to the point where I'm meant to be an adult doing adult things. Not the fun adult things like drinking in Malaga or gambling in Las Vegas. No, the adult things such as paying for a mortgage. For those lucky enough to live at home, stay there. You'll have more money for pissing away in Las Vegas. Or Blackpool.
I'm half way through working on Paddy the Corolla, when a chap I work with speaks to me. Nothing unusual there, I'm a talkative guy. But he wants to know how he could get rid of a car he's got. It's in a lock up, it's costing him money to keep it, and he wants to get rid of it. So I do the polite thing and ask what car is it. And he tells me those three words that gets every man excited. "A Subaru Legacy".
Ok. Not "A Subaru Impreza", or "I Love You", but still a "Subaru". Actually "A" isn't even a word. But I digress. I ask him how much he wants for it and he said he doesn't want anything for it, I can have it if I can take it away. A phone call or two is made, a date for collection is arranged, and I then wait to pick it up.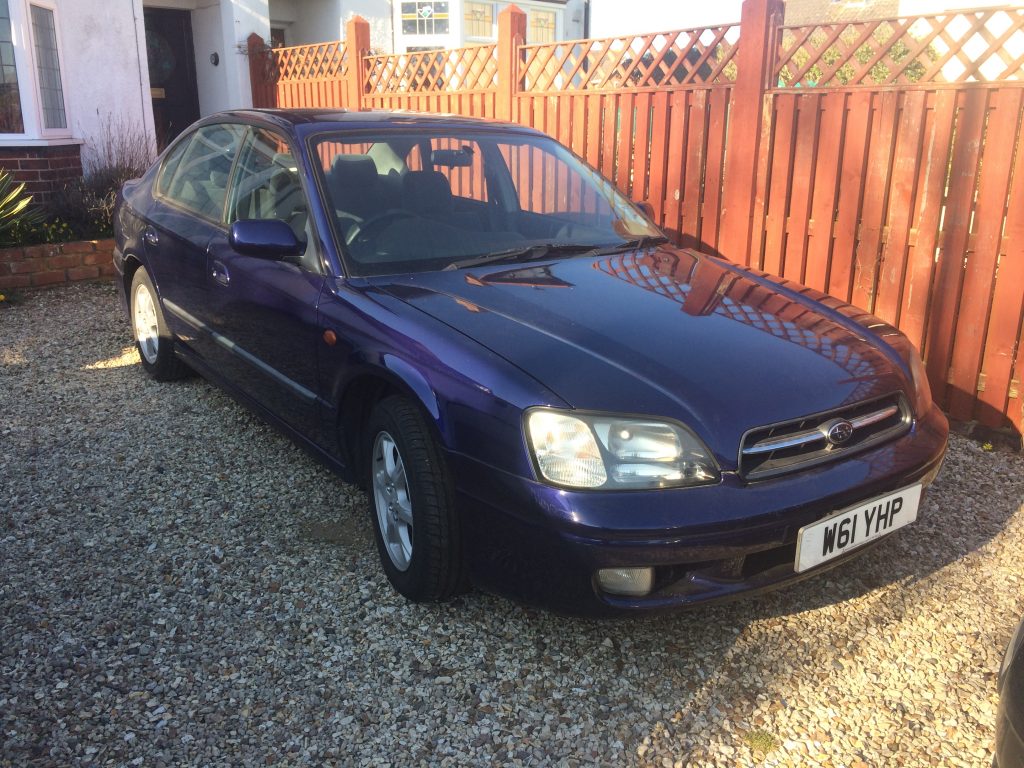 Bargain of the century
The lock up which was around the corner from my Mom's house. So I do the top son thing of going to see her for 20 minutes beforehand because I was a little bit early to be at the lock up. I go to the lock up, brownie points in my pocket from my mom, and the doors are open. It's a BLUE Subaru Legacy! Well this is just brilliant, I really have won the lottery. And even though I knew I didn't have to get him anything, I gave him a bottle of Ireland's best Tyrconnell whiskey. He enjoyed it, and I enjoyed trying to get the damn thing to start to get it on the trailer.
I get it home, and the wife is sort of supportive of it at this point. She'd have been more supportive of it if I didn't have the Corolla up on axle stands. But if I got rid of the Corolla I'd have no website, she never thinks of that. As it was home, I gave it a good service. Changed the oil, the plugs and inflated the tyres which were flatter than Venezuela's economy. I turned the car on, it started! And then spluttered and died. Great.
A bit of a Google gave me two options. It was either a cam sensor, or a crank sensor that was failed. Because the Subaru use boxer engines, the cam sensors were either side of the engine, and a bitch to get to. So I decided to do the easy one first which was the crank sensor. When I say easy, it was anything but. It's an aluminium head, with a steel sensor inside it. It was rusted shut. I went through two chisels and a screwdriver to get it out. But when I put the new one in, in to life it popped and I was overjoyed!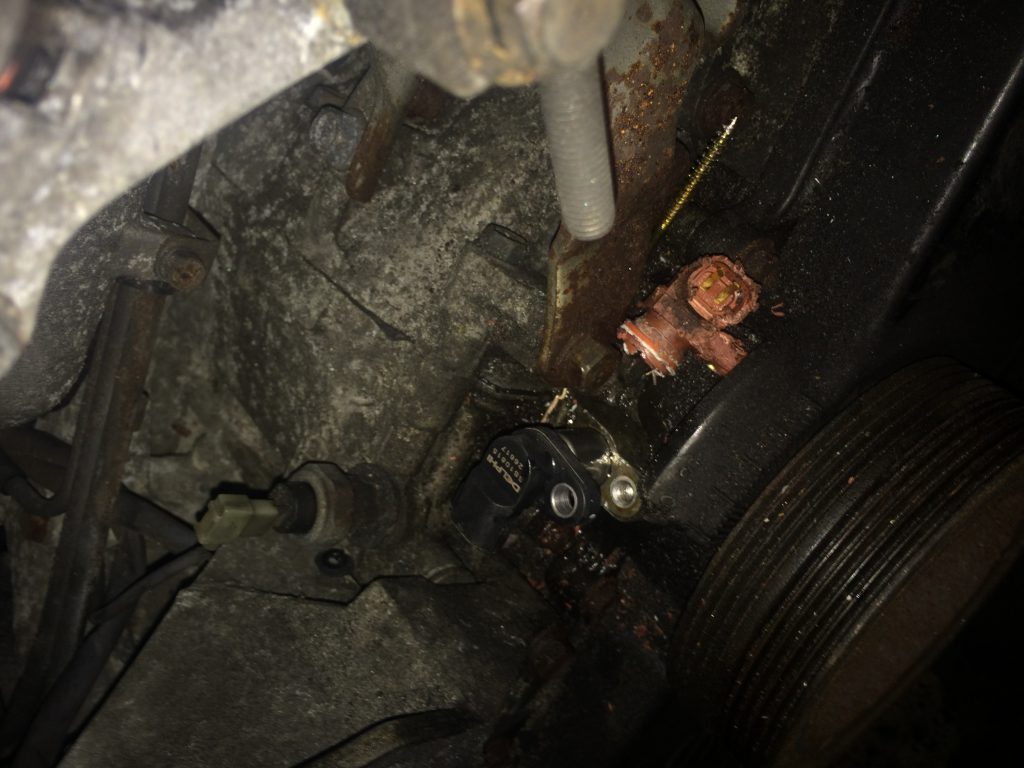 Ankle snapper
That Subaru Legacy became my daily, and I loved it. I didn't like the fact that it was poverty spec. Air conditioning was provided to you by electric windows. Cruise control was acquired by getting comfortable and resting my foot on the accelerator. My overriding memory of this car though was the clutch. I'd never driven a car with a clutch as heavy as the one that Subaru Legacy had. I'm a big guy, with big legs, and I'm strong. But I struggled to drive it during rush hour/stop start traffic in Birmingham.
Something had to give, and it did. I felt something go in my left ankle, meaning all I could do was hop. I couldn't walk. Being blessed with the world'd worst GP surgery also meant it was a 2 month wait to be seen to see what happened. So I self medicated. I threw on the tiger balm, popped the ibuprofen and rested. I felt it get better, and I waited for the pain to go before driving the Subaru again. And within two days of driving it, BANG! The ankle went again.
I had four cars on my driveway at this point, and as I sat there in pain the wife decided to have a sensible conversation with me about what car to get rid of. It came down to the Subaru Legacy and Paddy the Corolla. I knew in my head that the Legacy was a more practical car, so I elected to put the Corolla on Facebook Marketplace. It was taken down a day after as I had 10 replies to the advert, all wanting the engine. I let my heart rule my head, I couldn't break Paddy. So the Legacy went instead.
Gone, never to return?
A chap came to buy it with the readies, and I signed it over to him. I had bought a timing belt for it, and told him it would need changing as it was well beyond the grace period you could kid yourself that you get. Off he drove, and I watched the Subaru Legacy leave my life. I had said to the guy that if he ever came to sell it to get in touch with me, as I'd hope to be in a better position to use it.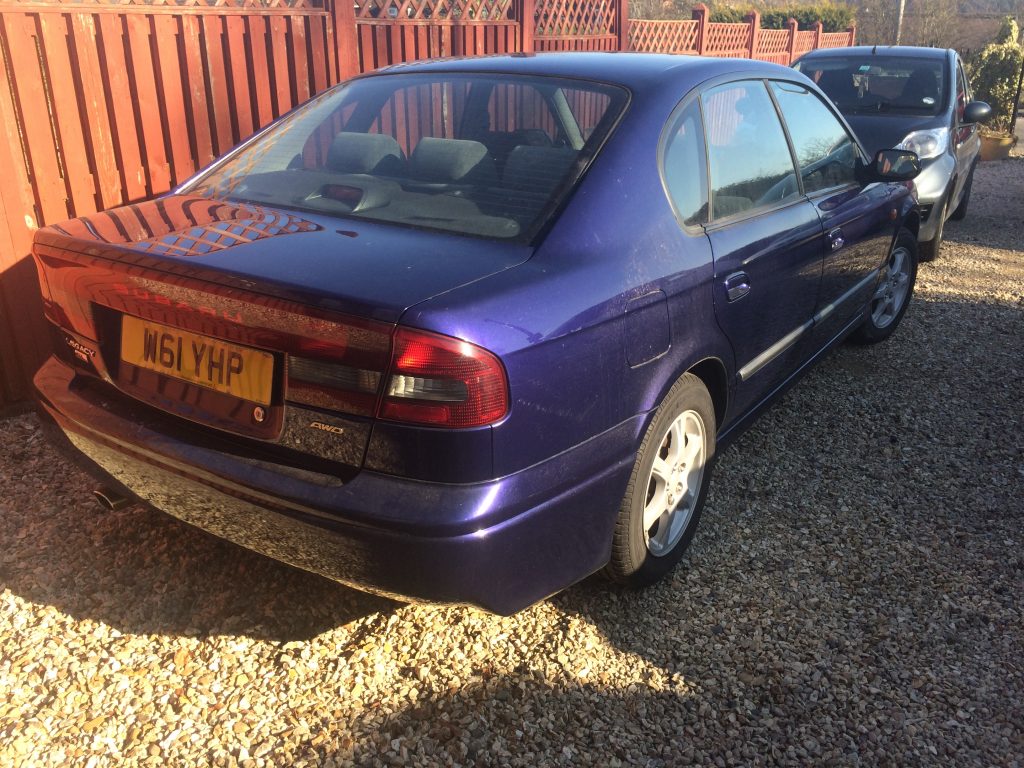 However, even now as I write this, I put the registration in and nothing comes up. It's disappeared. Like it never existed. I'd like to think that the new owner put private plates on it and is enjoying it every day. But I also know that, given the timing belt, it could well have been scrapped. And that would be an absolute shame to have happen to a car that did it's job very well. Even if it did hurt me!