This Christmas, both Top Gear and The Grand Tour will be on our TV's with special episodes. It follows pretty much the same formula as they have done for the last 15 years or so. Each group are abroad, they're tasked to buy a car, and do some crazy daft things with the cars. We've had Clarkson, Hammond and May drive through the middle east in various convertibles. We've had them bring Toyota Land Cruisers, original Range Rovers and a Suzuki to the amazon. And, obviously, pianos falling on top of Marinas.
From what I can see, not much has changed this year. Top Gear – now with Chris Harris and a taller version of Ant and or Dec – are driving around Nepal in three old cars. A 4×4 built by the Nepalese equivalent of Land Rover, a red Peugeot 106, and a blue Renault 4. And do you know what they're doing with them? Well from the outset they're driving along roads not built for a horse and cart let alone motor vehicles. Going up hills, slipping down valleys. Same old, cookie cutter show that they've been regurgitating forever.
We've been here before, they've done it before. There's a reason why we're having it again, and it's because people tune in to watch it. They enjoy the banter between the three of them and the scrapes that they get in to. However, there is an elephant in the room with this special – the same with the others – and that's the use and abuse of these older cars. But, in particular, to the Renault 4.
You will look after it, won't you?
There's an article in the Mirror where it turns out the chap who sold the Renault 4 to the Top Gear production team asked them if they'd look after it. The guy had it in Italy when he moved over there, and brought it back with him. If you see the photos of the car before it gets trashed, you'll see the car was looked after. You don't have a car like that, looked after like that, if it didn't mean something to you. And Chris Harris is quoted talking about the story of this car, and what happens to it, like it's the funniest thing on TV.
To a lot of people reading that story, or reading this website or other sites, this is the same as getting a £20 note and setting light to it in front of a homeless person. It's not funny, not clever, and is in just poor taste. It's cheap route one humour. The fact that they're wrecking this Renault 4 – which can command a lot of money in good condition like this was – and telling you that this was someone's pride and joy is the joke. That's the bit they want to entertain you with. The whole of the show is spent pointing at it, laughing at how it crashed in to the back of another car. Then there's 5 minutes at the end where they'll lament on how good that car is. Well, jackass, if it was so good in the first place why destroy it?
In memory of the Morris Marina – and piano
The case of the Morris Marina, I feel, was a turning point for many people. What started as being the joke back up car turned in to something a bit more vitriolic than that. When Top Gear abused the Marina the had, the Morris Marina Owner's Club wrote in to them and told them – quite rightly – that what they did wasn't right. But all this did was tickle the beans of Gobshite & Co, resulting in many more Marina's biting the dust in a dick swinging exercise parading as entertainment. This even transferred over to The Grand Tour, where they dropped a piano on a black Morris Marina.
The joke though is on Gobshite & co. That black Marina that was destroyed was rescued by friends of mine. They replaced the roof and is now structurally sound once more. The last time I saw it was when I picked up my Lada earlier on this year, and believe me I was tempted myself with the car. But I didn't have the funds, time or resources for it.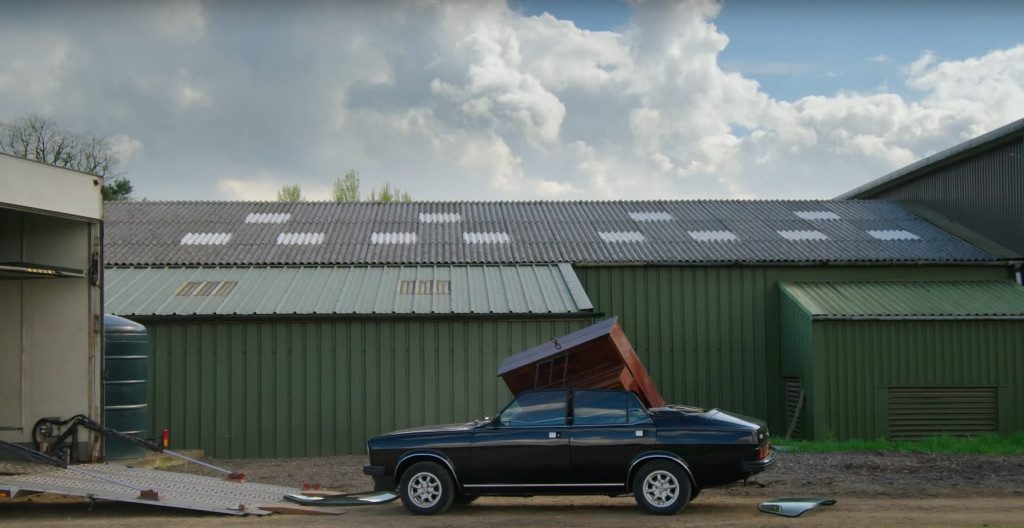 Retribution
Whats more, YouTube is now a bigger thing than it was when Top Gear was busy destroying Marinas. It has it's flaws, but the content on YouTube from dedicated people is starting to show up the old rehashed crap that Top Gear and The Grand Tour are producing. The content is often better, and in places, without bias. People like HubNut, Twin-Cam, idriveaclassic are normal people who are passionate about the cars that would end up on Top Gear and The Grand Tour to be destroyed. They're showing the general public what these cars are really like, what makes them tick, and go far beyond some clown laughing at how the previous owner won't like the car hitting a rock.
And the final retribution for the poor Renault 4 that's been destroyed this christmas and all the Marina's before it? YouTube is here to stay, whereas Top Gear and The Grand Tour are dinosaurs that belong to a different age. Preferably with multiple pianos raining down on the gobshites.