Given that I am the owner of a fairly rusty Lada, I've become accustomed to the countless jibes and jokes that go along with it. It's the usual stuff of "Lada's were crap, weren't they?", "They look like a skip", "Didn't Top Gear make a Lada go fast?". I also see countless threads on the internet asking for an idea about what car they should get, and there's a lot of scorn poured upon the humble Peugeot 107/Citroen C1/Toyota Aygo calling them slow. I think it shows the age of the people responding like this, because if they ever drove a Nissan Serena C23 then they would never EVER call a Peugeot 107 slow.
Why Get The Nissan Serena?
There will be some of us that remember seeing the Nissan Serena on school runs back in the late 90's and early 2000's. Back when the MPV (people carrier) was the new king of the Mondeo man's heart, there were many different options available. The most popular at the time was the Renault Espace, Ford had came out with the Ford Galaxy, and Tony Blair himself was ferrying his brood around the place in a Chrysler Voyager. Some would say that was an apt car for him to drive, given it's woeful NCAP safety rating for frontal collisions.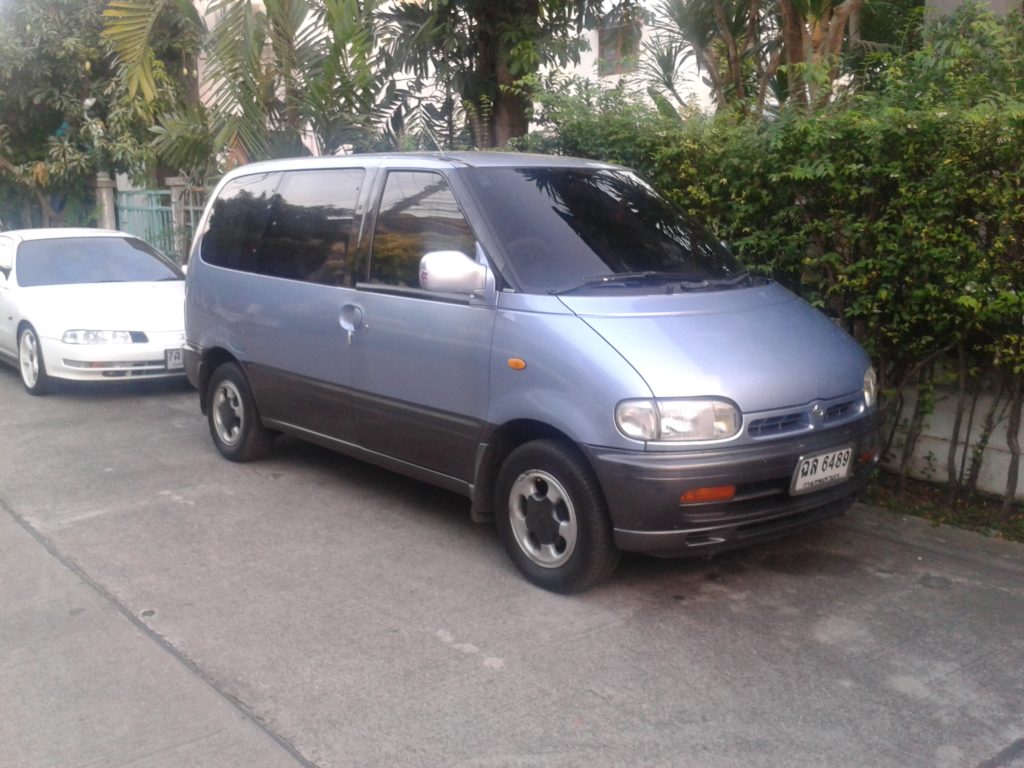 But to the thinking person who wanted reliability, they opted for the Nissan Serena. Why? Well, it's a Nissan. It's Japanese. It's going to be reliable.
The Nissan Serena wasn't bought on the basis of it's looks. Quite often when a family is looking for transport, looks do take a backseat to everything and it's all about the cost. For a recognised brand, the Serena was modestly priced compared to it's contemporaries. They were cheaper than the Ford, Renault and Chrysler, but more well known to UK buyers than the Hyundai at the time. So they offered a smart choice for the family, especially as provided a good amount of space inside it as well as being a smaller sized vehicle – meaning easier to park on the school runs or saturday shopping trips to Safeway.
The problem though was that while space and practicality are important, you want to know that the car can keep up in traffic. It's this point that lets the Serena C23 down. There are snails right now, telling their children of the time their great great great grandfather outraced a Nissan Serena in the Traffic Light Grand Prix of 1998. Calling them hopelessly slow isn't strong enough a term. They were, for a long time, the slowest accelerating car on UK roads – taking nearly 20 seconds to get to 60mph. I guess if you see them now they're still going to be glacially slow, as no one has released a vehicle as slow as that for a long, long time.
You think that small city car is slow? You know nothing…
It's a family vehicle, so why was it so slow? Well car manufacturers aren't charities, they need to turn a profit. While the car market has always been cut throat, prices need to be lower on vehicles that are cheaper to produce. This includes the cost of development of the vehicle. So when you're told that the market is demanding MPVs and you have nothing to offer, what do you do? Well, the answer is simple – you get your panel van, stick a few windows in it and some seats, and there you have it. You have got your MPV.
The Nissan Serena started life, not as an MPV, but as Nissan's panel van – the Nissan Vanette. The Serena shared much of it's body shape with the Vanette E, whereas the Vanette Cargo was a longer version of the Vanette. Between the Serena and the Vanette, the only changes made to the "consumer" version was the inclusion of an interior rear of the driver's seat, and absolutely most expense was spared when it came to the interior plastics.
Cheap, nasty feeling, it screamed "budget" the moment your hand went to touch it. I'm sure it would scream worse than that, something like "For Christ's sake turn me back in to the coke bottle I was meant to become!". I've no proof of this though, I've never spoken to the interior plastics of a Nissan Serena.
Engines can often make up for the lacklustre feel of a vehicle. With the Serena, looking at the choice of engines, the 2.3 litre diesel catches the eye. Given the relative weight of the van which in fairness to it wasn't heavy, you'd think that it'd make a good show of itself. Auto Express also thought that when they chose that specific engine for a 0-60mph test. I would've loved to have been part of that press gang when it got to 14 seconds and the stopwatch holder was looking at the speedometer expecting to see 60mph. They would have to wait for 28 seconds before they could stop the timer. 28 seconds (well, 27.8 seconds if you don't like decimals) for this vehicle to reach 60mph from standing still.
To give this context, which I would like to thank Nick Maxwell for pointing out in the comment below, I hadn't really compared this to anything. Obviously referencing my Peugeot 107, my Lada, isn't a fair comparison. So I did a little digging and found the performance of the Nissan's competitors: the Renault Espace (2.2 diesel) and Peugeot 806 (2.0 diesel), as outlined below:
| | | |
| --- | --- | --- |
| Car | Engine | 0-60 time |
| Nissan Serena | 2.3l diesel | 27.8 seconds |
| Renault Espace | 2.2l diesel | 12 seconds |
| Peugeot 806 | 2.0l diesel | 14.6 seconds |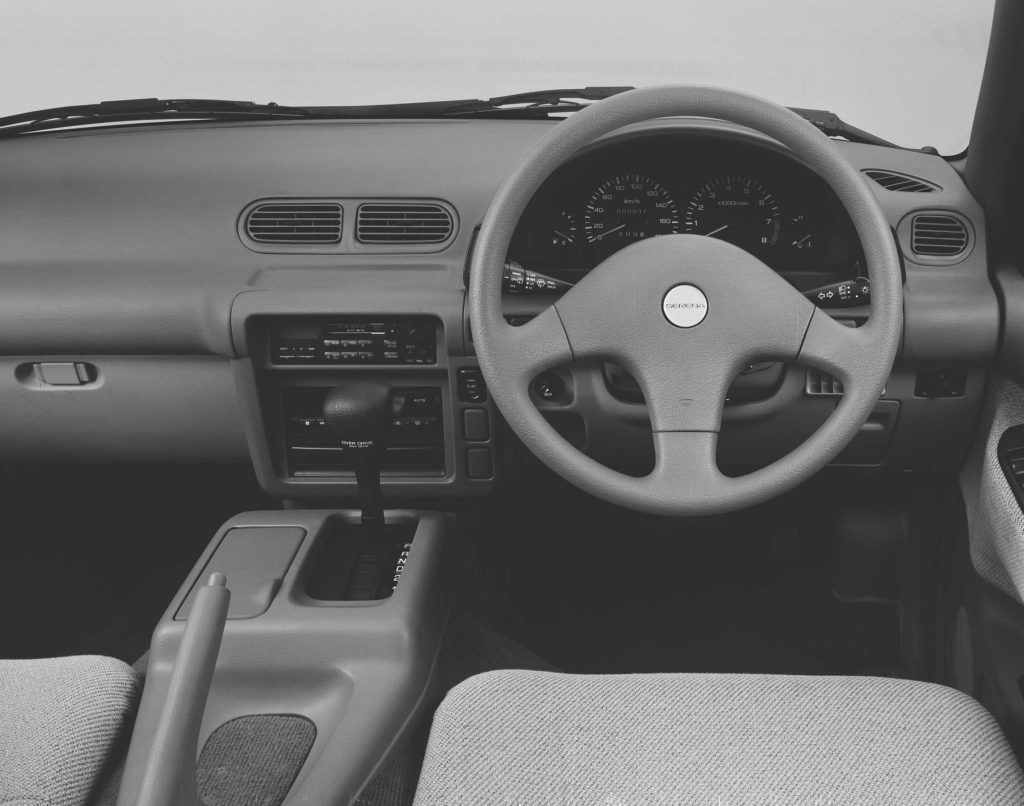 I am being hard on this car, but these opinions are based on seeing them in the wild. I had the misfortune of being in the back of one on a Friday night going to a pub where the driver got caught speeding – we were in a 30mph zone, don't get excited – and the first I knew of it was when a friend of mine asked me for £20 "The taxi is usually a tenner?" I said – "Yeah but he got a speeding ticket so I said we'd help pay for the fine". That was a friendship that ended shortly afterwards I'm glad to say.
However, I also remember a teacher at our school drove one of these, and she was a horrid person to the students. A teacher with absolutely no fairness and was all for the extreme discipline that could be afforded to the student, short of using the cane.
There is a lid for every pot – apparently
From researching this vehicle though, while you hardly see them on the road these days – for which, I'm not one bit bothered about – the reviews these get from those who get them second hand are quite positive. They do provide good loading space and practicality for those of us who need it. Most of them come as diesels, and that provides great economy for the long distance types as well as not suffering from the DPF cancer that plagues new diesel vehicles. Yet, these are all relative – what do you compare this to when you drive it or look at it?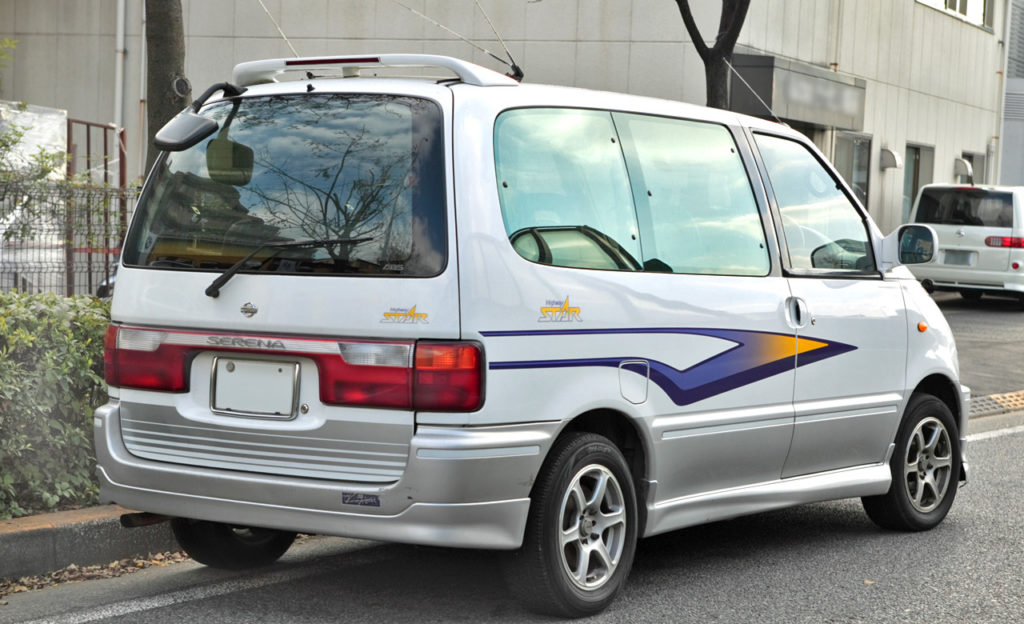 For me, I love the Renault Espace which I think that's the standard to compare to with vehicles like this and the Nissan falls short of it. But I would also say it's a better proposition than the Chrysler Voyager, so given the choice of a Serena, Voyager and a kick in the nuts, I'd happily go to A&E in the Serena with my balls in a sling.
Each to their own though when it comes to vehicles as always. There is no one universal truth that can be applied to vehicles, and what I consider crap others would consider world class. Ford, for example, I believe only made one good vehicle and that was the Transit. Up and down the land, there are Ford boys and girls spitting out their bran flakes in total offence at me saying that, as they look at their Ford Fiesta on the driveway audibly fizzing away with rust.
Likewise, there'll be Nissan Serena owners who take objection to these views and for that I apologise – but if I agreed with you'd be both be wrong. But, like Barry Hines wrote in Kestrel For A Knave – 3rd class driving is better than 1st class walking. So you might be right yet!