The Aston Martin Cygnet is a shady memory for Aston Martin. As I write this, share prices in Aston Martin Lagonda are riding high as Mercedes increased their stake in the company, effectively taking ownership of Aston Martin Lagonda. They've just released the Aston Martin DBX, and while I think it's a horrid looking thing, I wouldn't say no to one and neither would the internet it seems. But there was a time, in the not so distant past, when not every car they made hit the mark. One such car was the Aston Martin Cygnet.
Emission the point for the Aston Martin Cygnet
I remember vividly when it was released, which in fairness I should do given the Aston Martin Cygnet was released in 2011! The car had been released to suit those customers who either didn't fancy parking their DB9 in town when they went to pick up the foie gras from Waitrose, or wanted the Aston Martin experience but something that bit more attainable for the common folk.
Except, that was marketing speak. Just before the release of the Cygnet, the EU decreed that vehicle manufacturers were going to have to reduce the emissions their cars produced on average by 2012. The EU looked at the emissions the cars produced in total, not just individually.
The problem for a car manufacturer like Aston Martin is that your cars are all gas guzzling V8 monsters, which drink dead dinosaur fluid and release gases that will kill your first born child on the first Thursday of every month. As well as this, you couldn't just simply stick a 1.6 litre diesel in to an Aston Martin DB9. No one would buy it, because you don't buy an Aston Martin for anything like that.
Compounding this issue was, really, the sheer cost and knowledge needed to build a more economical car. Toyota, for example, never really had the expertise needed to develop the 1.0 litre engine powering the Peugeot 107, Citroen C1, and Toyota Aygo. They had to buy out Daihatsu to gain that knowledge. Aston Martin though had just become a private company at this point, so the resources simply weren't there. So what did they do? Well, they turned to badge engineering. Step forward Toyota, with their iQ.
The Toyota iQ – A washing machine on wheeels
The Toyota iQ was an incredibly small supermini, which was only slightly bigger than the Smart car – but you could fit 4 "adults" in to this. Now I'm sure 4 adults who are 5ft 8 could fit in it, but 4 rugby players at over 6ft? I'm not so sure. The Toyota iQ was powered by the same 3 cylinder engine that powered the Peugeot 107, Citroen C1, and Toyota Aygo, so provided good fuel economy and – most importantly for Aston Martin – low emissions.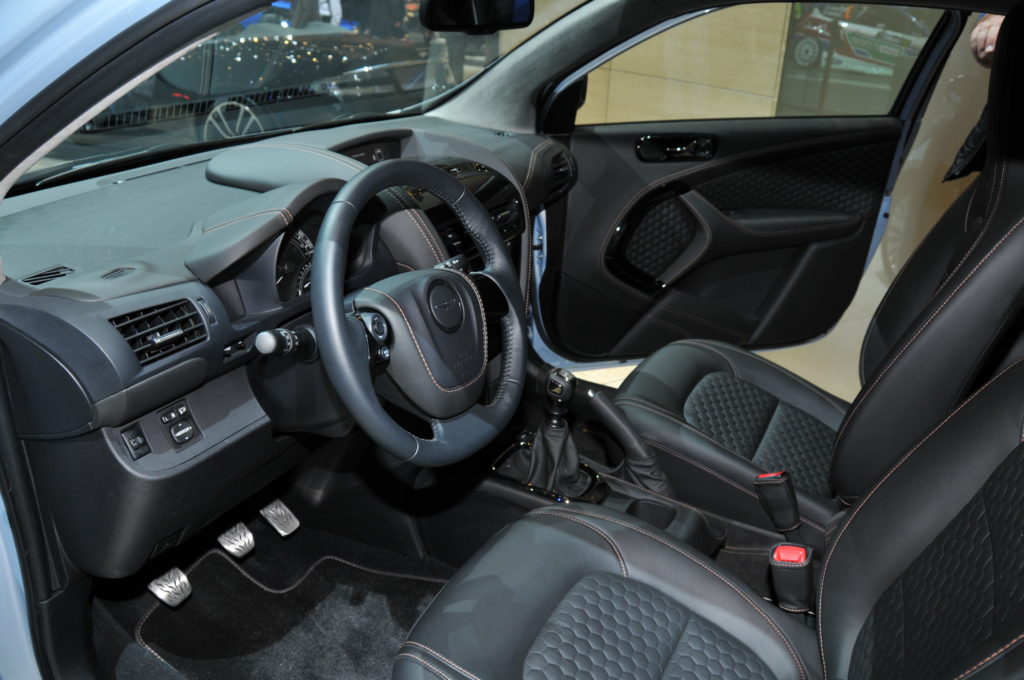 Now there is a marked difference in the types of client Toyota attract compared to Aston Martin, and the latter's client base expect luxury. I think most of them expect a Bond girl to be delivered with the car, but they'll settle for a leather interior and refinement. Neither of which the Toyota iQ really rolls out of the factory with. But this is OK, as the cost to Aston Martin is now focused on styling of a car and it's interior, instead of developing a platform etc.
It gets to 2011, and the Aston Martin Cygnet rolls of the production line to much fan fare from Aston Martin. They were targeting sales of 4,000 a year, thinking that their loyal customers would buy one to compliment the Aston Martin they already own. Except, hardly anyone bought one. When production ended in 2013, they sold 150 cars. In 2012, the year before production ended, they made a loss of £24 million.
What went wrong for the Aston Martin Cygnet?
A combination of the Aston Martin Cygnet taking 150 hours to build (compared with 200 for the DB9), it costing £30,000 (twice as much as the Toyota iQ, and a quarter of what the DB9 sold for), the Aston Martin Cygnet was a loss maker for the company.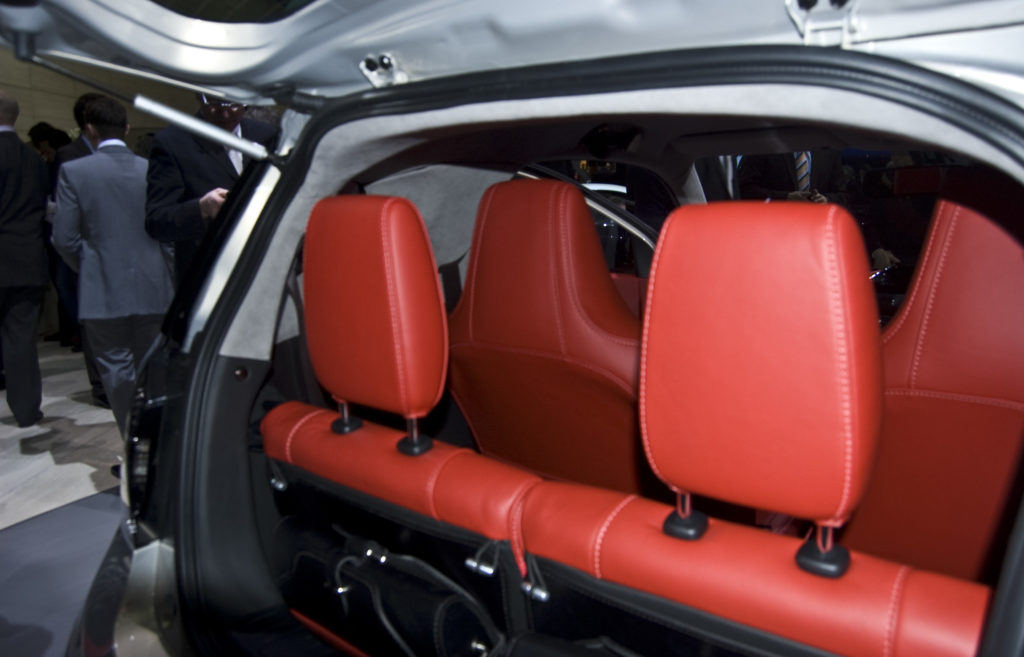 The idea that 4,000 would be sold was probably more of a stab at breaking even on the car, given it was really for EU emissions rules rather than anything. It was misjudged to think Aston Martin could open the brand to new customers doing this, even now with the benefit of hindsight.
Times have changed since the Aston Martin Cygnet met it's end. Hybrid and electric technology are now prevalent in cars, meaning emissions can be met without sacrificing power and can transform cars in ways that would be difficult to achieve with just using a combustion engine. This means that cars like the Aston Martin DBX how fill the role that the Aston Martin Cygnet was meant to do. It's introducing new people to the brand due to it being electric, and an SUV (unfortunately), while keeping Greta Thunberg happy at the same time.
But time has also changed the Aston Martin Cygnet, in a way that may have been thought of during a drunken Friday night near Gaydon.
Apparently a V8 engine isn't bigger than an Aston Martin Cygnet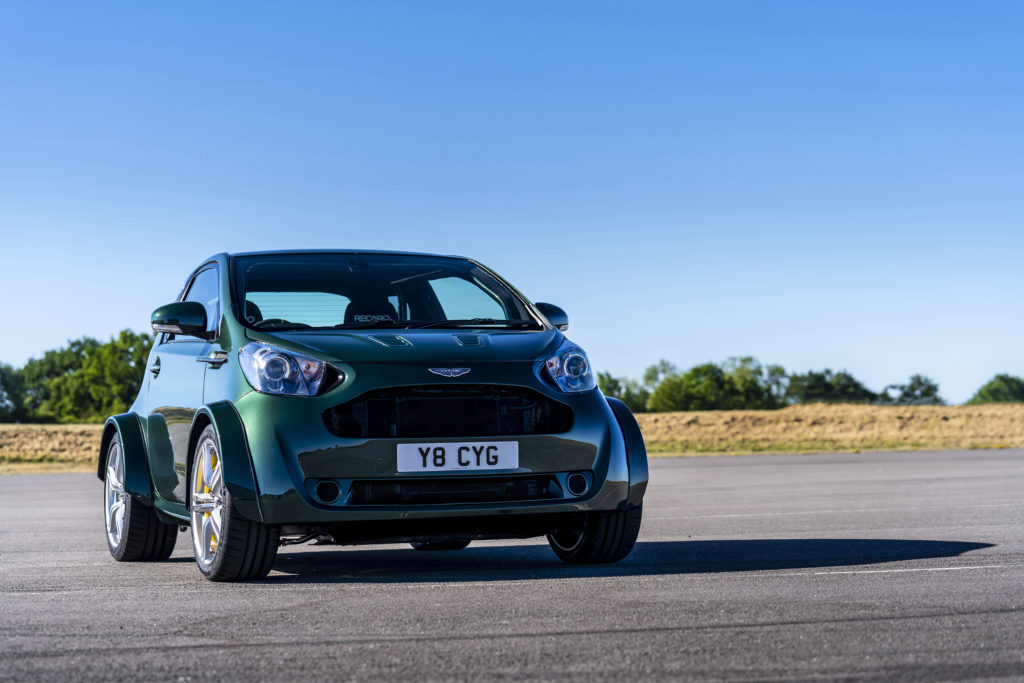 In 2008, Aston Martin's "Q Division", which is it's Skunkworks type of operation, decided the Cygnet needed a V8 engine in it. I don't know why you would think that, but then again I can't talk considering I'm putting a Rover K-Series in my Lada.
The team at Aston Martin had to do a lot of work to shoehorn the V8 in to the Aston Martin Cygnet, where it's questionable whether or not it shares anything other than a vague body shape with the original car. Quite like how Renault approached it's Espace F1 project.
The project ended up creating a one off, 430 bhp V8 monster with brakes that wouldn't be out of place on a tanker. Even with the heavy rework of the car, all of the lovely upgrades added just 400kg to the weight of the car. Meaning it measures about ~300bhp per tonne. That's absolutely insane.
However, as I said, it's just a one off. Which might be a good thing, it'd be useless for the shopping trip to Waitrose.